Individuals with liquid assets in the millions have a unique set of concerns when it comes to investing. High on the priorities list of High Net-Worth Individuals (HNWIs) is often the focus on preserving wealth to maintain a high standard of living, adhering to complicated taxation policies, and taking care of future generations. However, with great wealth comes not just greater responsibility but also greater complexity. Hence, HNWIs have to be especially vigilant about their investments. As a senior adviser who advises on the investment portfolios for a number of HNWIs, I have observed some common misconceptions that often undermine the long-term returns of HNWIs' portfolios:
Misconception 1: You have to take higher risks to access bigger rewards
Many HNWI investors have the impression that high-growth investments have to be risky. Such perceptions drive them to hold an excessive amount of cash, timed deposits or government bonds that bear low interest rates. However, the overall portfolio performance for these is so lacklustre that it even fails to combat long-term inflation.
In reality, a well-managed and diversified investment portfolio can be rather resilient even in the face of extreme market volatility. For example, global stock markets suffered a severe plunge in Q1 2020 due to COVID-19. MSCI AC World index fell 33.9% from its recent peak. Despite a strong recovery in Q2, its Year-to-Date return is still -3%. In contrast, our in-house Eagle Eye dynamic investment solution is designed to hold a globally diversified portfolio of equity and bond funds, and the fund manager has the mandate to adjust the portfolio dynamically in response to market changes. The Eagle Eye Dynamic Aggressive portfolio, on average, has a 60/40 equity bond mix. This portfolio experienced less downward correction in March, and is delivering +5% Year-to-Date performance as of 16 July 2020.
Similar outperformance has also been observed over the past five years. Our 60/40 (Aggressive) and 80/20 (Very Aggressive) dynamic portfolios have both produced higher returns and yet lower volatility than MSCI AC World Index.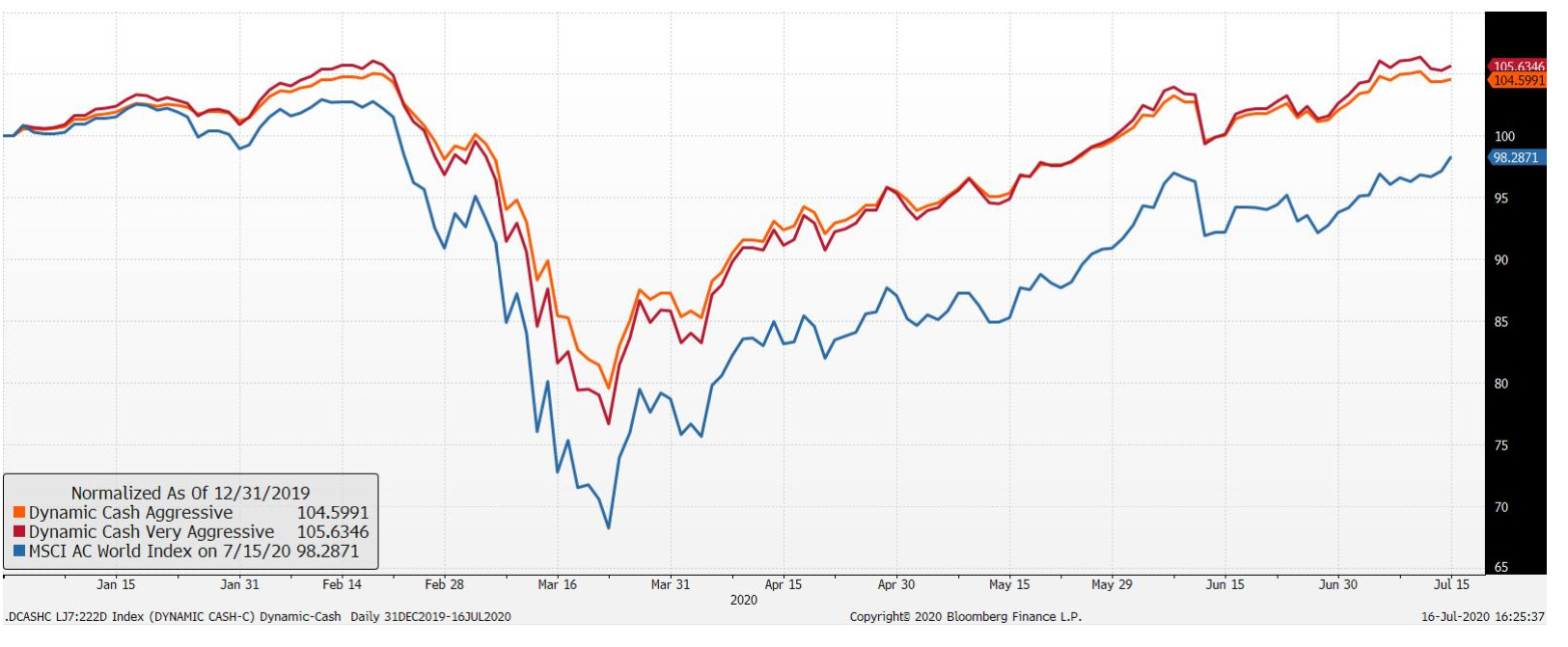 Eagle Eye Year-to-Date Performance vs MSCI AC ­World
Evidently, a properly managed and globally diversified investment portfolio can yield healthy growth, but not necessarily at the expense of stomach-churning volatility.
Misconception 2: Actively managed portfolios do not outperform indexes frequently
There is another group of HNWI investors who are comfortable with investment risks but do not believe in actively managed investment funds. Typically, these are younger investors who prefer to buy and hold Exchange Traded Funds (ETFs) that passively track a financial index (e.g. MSCI Asia Pacific, S&P 500, etc.). These investors embrace the notion that index funds have lower management fees, and can outperform actively managed portfolios in the long run.
Truth be told, not all index funds are created the same. Some may have significant tracking errors or inherent structural risks.
On the other hand, there are also experienced active fund managers who consistently beat their respective benchmark indexes by significant margins. For example, below are the charts of two equity funds that have a long history of outperformance.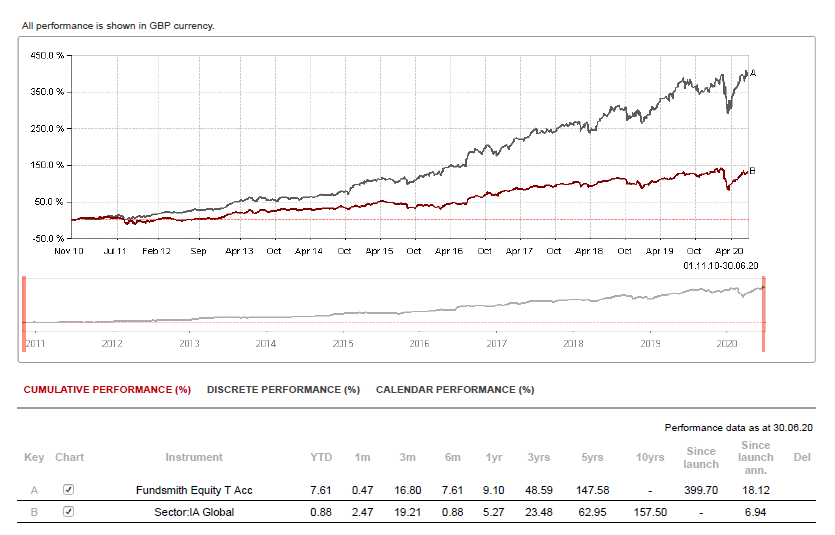 Chart: Fundsmith Equity Fund Performance vs IG Global Index

Chart: JPMorgan Pacific Securities vs MSCI AC Asia Pacific Index
A good investment adviser will actively source and deploy such outperforming investment funds to boost his or her clients' portfolio returns.
Misconception 3: Investing in domestic assets is the safest
"Invest only in what you know" has been an adage abided by many. Residing in Singapore, many HNWIs have chosen to invest in what they know best, e.g. Singapore stocks, properties, and bonds, etc. This leads to an investment behaviour known as home country bias – the tendency for investors to favour domestic assets over foreign ones. Such home country concentration is accentuated by the fact that many HNWIs are also business owners who derive a substantial part of their business wealth from the Singapore market.
Singapore is a miracle nation that has enjoyed astounding economic growth since its birth 55 years ago. However, while it has advanced from being a third world country into a wealthy and developed nation, its economic growth has also slowed down significantly in the past decade. This is partially reflected in our stock market performance. After being adjusted  for exchange rate loss, MSCI World index actually outperformed the Singapore Straits Times Index (STI) by almost 60% in the past five years!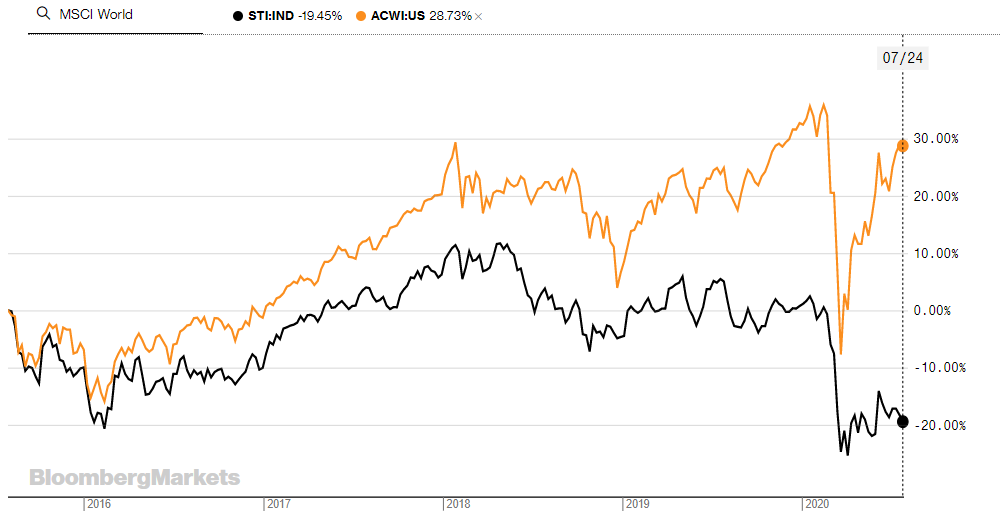 Chart: STI Index vs MSCI AC World for the past five years
As a discerning investor, one should be aware of three types of risks when a substantial portion of personal wealth is tightly tied to the future of Singapore:
Short-term Risk – Singapore's Emergence from COVID-19
The pandemic has presented Singapore with a number of existential challenges. As a nation with limited natural resources, Singapore needs to import food, water, medical supplies and even manpower to keep the nation running. Singapore is not a consumption-driven economy. A significant part of its GDP is derived from international trade. COVID-19 has exposed such vulnerability and is hitting Singapore economy at multiple fronts. What if COVID-19 continues to disrupt the global economy and impede international trade over a prolonged period of time? What if China and the United States cannot resolve their differences in the aftermath of COVID-19, and launch a bigger scale trade war that threatens globalisation? More importantly, what if there is another pandemic? Will Singapore be ready to handle it without drawing deep from its national reserves?
Medium-term Risk – National Leadership Transition
As Singapore's General Election has just ended, one cannot help but wonder: will the aging 3G leaders from the ruling party have sufficient time to groom and pass the helm to a team of highly competent 4G leaders? Or will the opposition party gain even a stronger foothold in the parliament in the next election? Will the new national leadership be able to lead Singapore to greater heights?
Long-term Risk – Human Capital Development
Singapore's late founding father Lee Kuan Yew had astutely identified human capital as a unique competitive advantage of Singapore. But as Asia's economy grows, so does the vast talent pool in China, India, and many ASEAN nations. These talents have good qualifications and often come at a lower cost. How will Singapore's young generation fare in an increasingly competitive international landscape?
Population aging is another challenge the next generation has to face. Singapore will have a smaller pool of taxpayers supporting a growing number of aged citizens. More financial resource and human capital will need to be diverted from high-growth economic endeavours to elderly care. Will this further erode Singapore's long-term competitiveness?
While I am still confident that Singapore will remain as a wealthy and successful nation led by highly competent leadership, the risks ahead should create a healthy dose of concern. For a HNWI investor who has been putting most of his or her eggs in Singapore, asset diversification is probably the most logical course of action to ensure wealth preservation.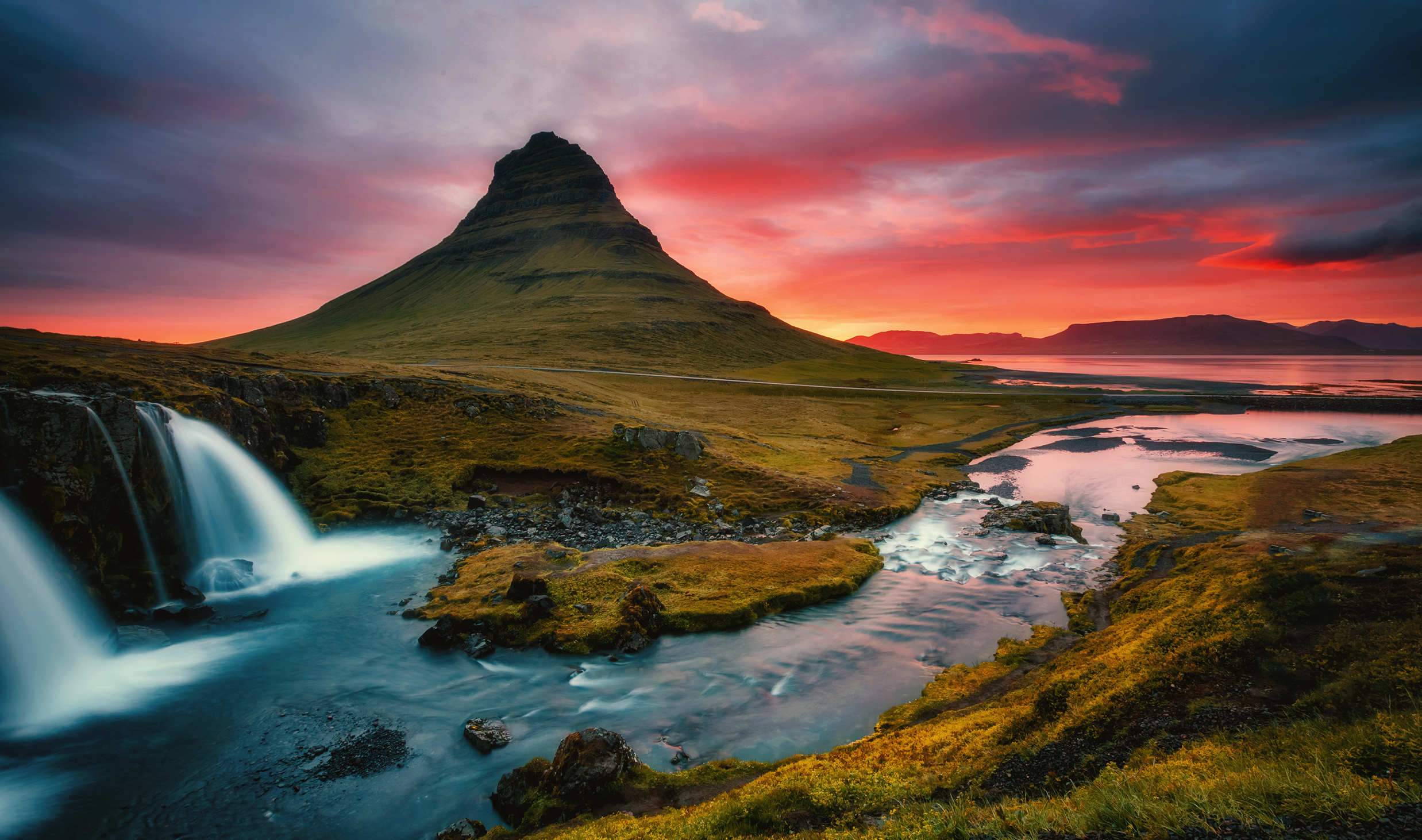 In summary, there are plenty of solutions out there that can help HNWIs not only beat investment benchmarks but also diversify their portfolios, ensuring that they can preserve and grow their sizeable wealth. An adviser can create a solution tailored to one's needs and ultimately, deliver tangible results. Catch up with your adviser, or engage one to discuss potential strategies regarding your portfolio today.
LIROS CAPITAL ADVISORY GROUP
Anthony Tse
One of IPPFA's Top 10 advisers since 2011, Anthony specialises in investment and legacy planning. Passionate about bringing order to complexity, he supports about 80 clients, many of whom are either high-net-worth individuals (HWNIs) or affluent working professionals, in growing and preserving their wealth.
"Most of my clients are intelligent and savvy professionals and business owners, but often acknowledge that wealth management is not their core competence, and prefer to seek expert advice to manage their own finances. I take delight in bringing order and peace to their financial world," he explains.
Anthony has a proven track record in advisory excellence. The seasoned adviser is also passionate about sharing his expertise with the public. A respected name in the industry, Anthony is sought after for his insights at wealth management seminars and workshops, as well as media interviews.
The information in this article is meant for general information purposes only and does not constitute financial advice. Please consult your Financial Adviser before making any investment decisions. Please remember that past performance may not be indicative of future results. Different types of investments involve varying degrees of risk, and there can be no assurance that the future performance of any specific investment, investment strategy, or product made reference to directly or indirectly in this newsletter (article), will be profitable, equal any corresponding indicated historical performance level(s), or be suitable for your portfolio.
IPP Financial Advisers Pte Ltd
78 Shenton Way #30-01 Singapore 079120 | Tel: +65 6511 8888 | enquiry@ippfa.com |