When it comes to financial planning, the trick is not focusing on money itself but rather the options it provides. Regardless of whether you are currently wealthy or not, you can have a wealth of choice. True wealth is being able to make the choices you want during your retirement years, just like having the option of a comprehensive menu.
It's true that the concept of retirement planning has not changed much over the decades. People work, save, and then they retire. The key differences however is today's challenges differ greatly to those of the previous generation.
Life expectancy in Singapore has increased. It is important not to underestimate your life expectancy or the number of years you will likely spend in retirement. In 2010, Singapore's life expectancy was 81.7 years, and that age rose to 83.9 years in 2020.
It only makes sense that with the increase of the average life, so too should your retirement expenses. So begs the question, how can you retire the way you want? As retirees, you may want to experience all the things you couldn't do when working: exotic travel vacations, going on a cycling tour, writing a novel, or simply more time with friends and family.
From budgeting and setting goals to finding the best retirement plan, here are the five important ingredients to will help you whip up a retirement plan that allows you to have your cake and eat it.
Not to be confused with working hard, we do not mean doing more than you should in the workplace. Instead, when you're thinking about your finances for retirement, put in the labour of love you deserve on planning your future.
Acknowledging whether you are ready to retire or not is the essential first step to assess your current financial position. This goes a long way in developing a plan that can be tailored to address any potential shortfalls.
This is the most fundamental step for everyone who is starting. Small amounts of money regularly saved and compounded over time can eventually grow substantially. So, where do you get that money to begin with?
In general, there are two basic sources: earned income and passive income. Earned income is derived from your job, what you do for a living, while passive income is generated from other means such as investments. For the majority, we can only start exploring passive income streams when we have earned enough income to invest.
Passive Income: What You Need to Know
The idea of earning passive income is to increase your earning potential beyond that of your earned income or day job.
Almost every passive income idea requires an initial investment of time, money, or other resources. Monitoring and regular maintenance are needed to keep things running smoothly, but would otherwise continuously generate income for you.
There are three ways to generate passive income:
1. Invest: Investments that provide passive income include dividend stocks, bonds, annuities, and rental properties.
2. Develop: Create a profitable product to earn money.
3. Buy or Rent: You can also sell or lease assets you already own. For example, you can rent out a second or third home in your possession.
To learn more about generating passive income suitable for your risk profile and needs, you may also want to consult a trusted financial adviser representative who can point you in the right direction on the various ways you can create a sustainable passive income stream.
Ingredient #2: Supplement Your CPF
For some Singaporeans, it is entirely possible to have enough money to cover their retirement expenses entirely through their various Central Provident Fund (CPF) schemes. However, to many others, the CPF Life scheme may only provide what can be considered just meeting the bare minimum in terms of standard of living.
Aside from the inflation rate affecting your fixed CPF pay out, the pay out may fall short of supporting your ideal retirement lifestyle.
So if you are planning to pursuit your interests during your retirement life after years of hard work, you will want to supplement your CPF pay out that can support beyond just the bare minimum. Depending on your individual risk profile and aspirations, you may want to seek alternative sources of income. These can include dividends from investment plans and endowments.
A good financial adviser representative may also be able to help you optimise your CPF contributions for retirement and tax savings and show how you can maximise the use of the Supplementary Retirement Scheme (SRS) and Retirement Sum (Cash) Top-up Scheme.
With both your CPF pay-out and other retirement income that you have planned for, you are well on your way to achieving your retirement goals.
Ingredient #3: Save, Save, Safe!
Even if you can only save a little bit, today is the best day to start saving. Saving for retirement begins now. Let me explain. Here are two reasons: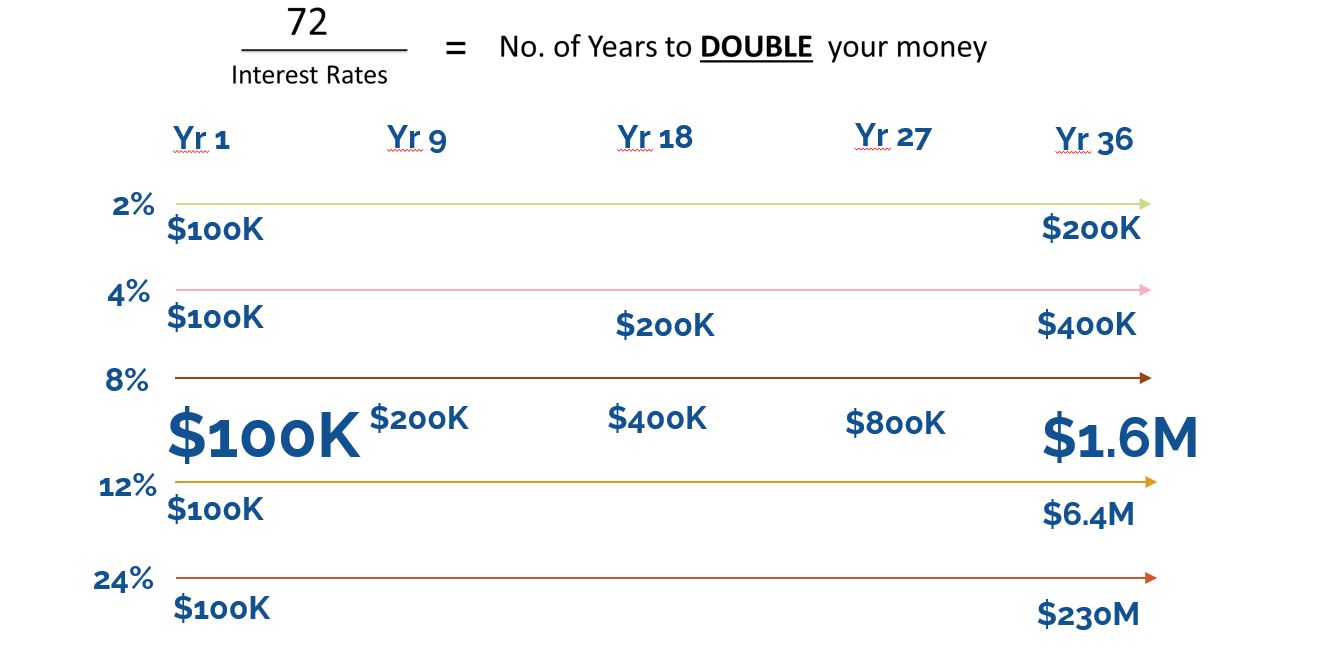 Reason 1. Compound interest works wonders
With suitable investments, your money can grow considerably. When compound interest is involved, you could even double your savings as you sit back and relax.
The Rule of 72 is a simple way to determine how quickly your investment can double. With a fixed rate of return, this method gives you a rough estimate of the time it will take for your money to double.
For example, an investment with a 4% return on investment will double in 18 years. Investments that pay 6% will take 12 years to double. A mere 2% increase in your investment can double your return six years earlier.
Reason 2. Saving becomes instinctive
Although it makes rational, mathematical sense to begin saving early, it is not always easy in practice. The more you save, the greater your motivation to save more. Seeing your account balance grow can be rewarding.
How much money should you set aside? I would say as much as you reasonably can.  Prioritising yourself is crucial. You can do this by taking a percentage of your paycheque and putting it straight into your savings, investment, or retirement account. As a benchmark, we recommend considering putting 30% of your monthly gross income.
Ingredient 4: Rally your Insurance Portfolio
While some people enjoy managing their investments independently, it's always good idea to work with a certified financial adviser when planning for retirement to some capacity.
When you work with a professional, you will have to discuss your time horizon and risk tolerance levels —two crucial factors when building a portfolio. Your financial adviser representative may also be able to offer ways of protecting the wealth you have accumulated, either through insurance or investment strategies.
Ingredient 5: Invest and Hold
Buying and holding stocks is a passive investment strategy where the investor holds them for the long haul. Rather than trying to make a quick profit by riding out the ups and downs of prices, this method prioritises time in the market over timing the market.
Using a strategy like this can keep you from making knee-jerk reactions that may affect your returns. Buy-and-hold investing advocates are staying invested throughout market cycles to maximise long-term returns.
Nevertheless, anxious investors may find it hard to sit back and leave their investments to the mercy of the market forces. Often, investors overtrade because they are unconfident or uncomfortable about their position, causing the to make subpar decisions on their entry or exit point.
At IPP Financial advisers, there is a committed team of specialists who help our clients optimise, diversify and balance their portfolios to ensure that their portfolios remain well within their individual risk profiles.
The Recipe for a Successful Retirement
Like baking a cake, having a good retirement plan requires time and patience. You can expect sweeter results with an experienced baker with a reliable oven. Like any other important milestone in life, the centrepiece of your retirement requires experienced hands with careful consideration. Where the similarities end is with the consequences. A bad cake may ruin an evening, but a poorly executed retirement plan may turn into lifelong regret.
VINEYARD ADVISORY GROUP
Aaron Tay
Aaron Tay graduated from the Nanyang Business School majoring in banking and finance and have since gone on to become a certified financial planner with 16 years of experience in wealth management and experience. A family man with an unparallel passion for personal finance management, Aaron has millions in assets under advisory with hundreds of families under his astute care.
"This advertisement has not been reviewed by the Monetary Authority of Singapore"
IPP Financial Advisers Pte Ltd
78 Shenton Way #30-01 Singapore 079120 | Tel: +65 6511 8888 | enquiry@ippfa.com |